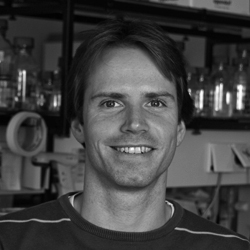 Dr. Christian von Hilchen
Postdoc
Institute for Pathobiochemistry, UM
Duesbergweg 6, 55128 Mainz
E-mail
Web page
Research Interests
One main research focus of the Behl group is the analysis of biochemical changes going along with aging. In particular we are interested in how cellular protein homeostasis is regulated and maintained as many age-related neurodegenerative diseases are known to be associated with altered protein aggregation.
Key techniques: Western Blot, Immunohistochemistry, Drug Application
Research system/organism: Cell culture and different model organisms (C.elegans, mouse, …)
Five Most Relevant Publications
Morawe T, Hiebel C, Kern A, Behl C (2012). Protein Homeostasis, Aging and Alzheimer's Disease. Mol Neurobiol. 46(1):41-54.
Behl C (2012). Brain aging and late-onset Alzheimer's disease: many open questions. Int Psychogeriatr. 24 Suppl 1: S3-9.
Gamerdinger M, Carra S, Behl C (2011). Emerging roles of molecular chaperones and co-chaperones in selective autophagy: focus on BAG proteins. J Mol Med (Berl). 89:1175-82.
Gamerdinger M, Kaya AM, Wolfrum U, Clement AM, Behl C (2011). BAG3 mediates chaperone-based aggresome-targeting and selected autophagy of misfolded proteins. EMBO Rep. 12(2):149-56.
Kern A, Ackermann B, Clement AM, Duerk H, Behl C (2010) HSF1-controlled and age-associated chaperone capacity in neurons and muscle cells of C. elegans. PLoS One. 2010 Jan 5;5(1):e8568.