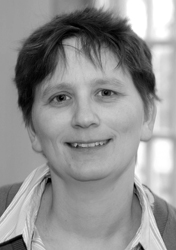 Dr. Ruth Brenk
Juniorprofessor
Institute for Pharmacy and Biochemistry, JGU
Staudinger Weg 5, 55128 Mainz
E-mail
Web page
 Research Interests
The overall research goal of the Brenk group is to improve methods used for structure-based drug design and to apply these methods to design inhibitors for enzymes with biological relevance. A key point in our research is the interplay of theoretical and experimental methods.
Key techniques: Structure-based drug design, molecular modelling, X-ray crystallography
Research system/organism: We have a focus on antibiotics but are not fixed on a certain target area.
Five Most Relevant Publications
Urich R, Wishart G, Kiczun M, Richters A, Tidten-Luksch N, Rauh D, Sherborne B, Wyatt PG, Brenk R. De novo design of protein kinase inhibitors by in silico identification of hinge region-binding fragments. ACS Chem Biol 8 (5), 1044-52 (2013).
Daldrop P, Reyes FE, Robinson DA, Hammond CM, Lilley DM, Batey RT, Brenk R. Novel Ligands for a Purine Riboswitch Discovered by RNA-Ligand Docking. Chem Biol 18 (3), 324-35 (2011).
Krasowski A, Muthas D, Sarkar A, Schmitt S, Brenk R. DrugPred: A Structure-Based Approach To Predict Protein Druggability Developed Using an Extensive Nonredundant Data Set. J Chem Inf Model 51 (11), 2829-42 (2011).
Frearson JA, Brand S, McElroy SP, Cleghorn LA, Smid O, Stojanovski L, Price HP, Guther ML, Torrie LS, Robinson DA, Hallyburton I, Mpamhanga CP, Brannigan JA, Wilkinson AJ, Hodgkinson M, Hui R, Qiu W, Raimi OG, van Aalten DM, Brenk R, Gilbert IH, Read KD, Fairlamb AH, Ferguson MA, Smith DF, Wyatt PG. N-myristoyltransferase inhibitors as new leads to treat sleeping sickness. Nature 464 (7289), 728-32 (2010).
Mpamhanga CP, Spinks D, Tulloch LB, Shanks EJ, Robinson DA, Collie IT, Fairlamb AH, Wyatt PG, Frearson JA, Hunter WN, Gilbert IH, Brenk R. One Scaffold, Three Binding Modes: Novel and Selective Pteridine Reductase 1 Inhibitors Derived from Fragment Hits Discovered by Virtual Screening. J Med Chem 52 (14), 4454-65 (2009). [Pubmed | DOI | Faculty of 1000 Biology | Practical Fragments].